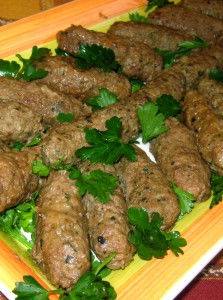 This one is for the beef or lamb lovers.  You must have had Kofta before, maybe you called it Kefteh, kefta or sikh kebab, so many names, all pointing to the same deliciousness!  This is the burger meat of the Middle East.  Adding lamb to the recipe gives it a richer flavor but feel free to omit that if you don't like lamb.
One of the easiest preparations for beef and lamb, it's popular to make at home or to buy from a recipe for your next family dinner. Mom showed me a nice trick to give it the charcoal flavor all year round with starting that grill in the backyard.  Let's get cooking!
Serving Ideas: Serve Kofta as your meat dish at dinner , in a sandwich at lunch or in your Middle Eastern- themed BBQ.  It can also be served as an appetizer with a Tahini or Yogurt dip and mini pita breads on the side.
Condiments: Tahini sauce is a typical condiment.  You could also serve Hummus or Yogurt dips with Kofta.
Serving Size: 3 pieces per person, serves 5 persons
Ingredients:
1 lb ground beef
1/4 lb ground lamb (optional, if not using then add more ground beef instead)
1/2 cup minced parsley
1 grated small onion
2 minced garlic
1 Tbs salt
1 tsp crushed black pepper
1/2 tsp cumin powder
1 tsp nutmeg
Extra virgin olive oil Spray
1 piece of charcoal
Directions:
~ Mix the onion and garlic with the spices and let it sit in room temperature for 15 minutes
~ Add the meat and the parsley to the onion and mix well.  Shape the meat into kofta shapes.
~ Spray the bottom of a large pan with the olive oil.  Heat the pan over medium high heat.
~ When the pan is hot, add the koftas and pan fry on all sides.  Lower the heat and cover the pan.
~ Let it cook for 5 minutes.  Then uncover the pan and let any liquid evaporate.
~ The kofta is now ready to serve or you can continue to the next steps to add the charcoal smokey taste:
~ When cooking the kofta, get the charcoal ready by putting it on a medium high fire until it turns grey.
~ Make a small pocket that will hold the charcoal: Take a piece of aluminium foil (8×8″/20x20cm), fold in half then fold the edges to make the pocket shape.
~ Place 1 Tbs of olive oil and the hot charcoal to the foil.
~ When the kofta is cooked, remove from the heat.  Make a hole in the middle of the pan, pushing aside the koftas.
~ Put the foil pocket in that hole and quickly cover the pan.  The smoke from the charcoal will fill the pan and infuse the koftas.
~ After 2 minutes, your kofta is ready to be served.
~ Bel Hana ~
Best Places to Try this Dish in Egypt:
~ Any "7atti" or "Hatti" restaurant, which is a restaurant that sells grilled & roasted meats.
~ My mom's kitchen