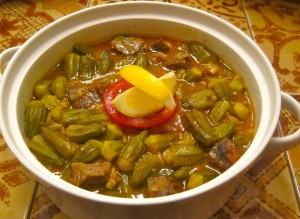 A hearty Okra stew, typically served with lamb or beef, or skip the meat for a vegeterian variation.
My grandma, a busy working woman, didn't spend much time in the kitchen.  Still, she was known to make two dishes really well and Bamya was one of them.  She was very meticulous in all what she did.  And her bamya recipe was a great demo of that.  My grandma and I used to share a special bonding moment when the two most famous soccer teams, Ahly & Zamalek, played against each other.  Everyone in our household rooted for Ahly except her.  So, to give her company, I chose to root for Zamalek just so that she wasn't by herself. By now you must be thinking, what does soccer have anything to do with Bamya??? Decades passed and I got on twitter during Egypt's Jan25 revolution.  I followed many of the revolutionists including the great @gemyhood.  It turned out that he's a big "Zamalek" fan.  Not only that, he made a killer Bamya recipe.  So from the only two big Zamalek fans in my life, I'm happy to share with you the best bamya recipe I ever had.
Serving Ideas: Bamya is typically served with spaghetti or pita bread and a side salad.
Condiments: Serve with wedges of lemons or limes. Add more heat and serve it with slices of your favorite chili peppers.
Serving Size: 4-6 persons
Ingredients:
8 large cubes of lamb or beef
1 medium onion, peeled
1 tsp Salt
2 Tbs Cooking Oil
6 cloves of garlic, crushed and chopped
3 medium ripened tomatoes
3 cups frozen bamya (About 400 grams / 1 lb, cleaned up and ready to cook)
Directions:
Prepare the Meat:
~ In a medium saucepan, add the meat cubes,onion and 2 cups of water to cover it.
~ Bring to a boil and add the salt.
~ Reduce the heat. Cover the saucepan and cook for 20 minutes.
~ Your meat and broth are ready.  Cut each meat cube in smaller bites.  And discard the onion.
Prepare the Okra: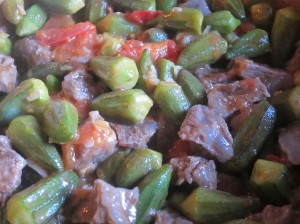 ~ In a large saucepan, heat the oil then add the garlic and stir fry until cooked but not browned.
~ Dice up the tomatoes really small.
~ Add the tomatoes and their juices into the saucepan.
~ Mix well and let it simmer over medium heat for 5 minutes.
~ Add the okra and mix well.  Then add the meat and mix well. Let it cook for 3 minutes.
~ Add the broth and bring to a boil.
~ Lower the heat. Cover the saucepan and let it simmer for 20-25 minutes.
~ Your bamya is now ready to serve.
Variations:
For a vegeterian dish, skip the meats and use a vegetable stock or water instead.
~ Bel Hana ~
Best Places to Try this Dish in Egypt:
~ Restaurants serving Authentic Egyptian Food
~ My grandma's kitchen